If you celebrate Christmas Eve in an Italian household there is a good chance your table is filled with many different kinds of fish. If you're wondering what type of wine will pair best, we recommend a light white wine or a very light red wine.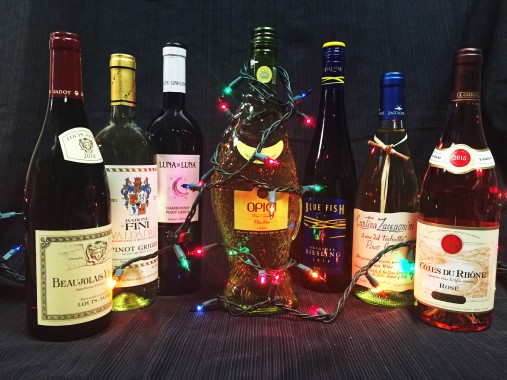 Opici Vino Bianco – $9.99
"The Marche region of Italy has long been known for producing structured and balanced white wines from the native Verdicchio variety. Trebbiano adds further structure to the final blend, while Chardonnay and Sauvignon Blanc contribute delicate fruit aromas. Dry in style with a clean, crisp citrusy finish.
Packaged in a traditional ornamental fish bottle used for centuries in this region, it pays homage to the Marche's rich history. It is also a good indication of the ideal pairing. Serve with any and all seafood dishes. Best when young."
Cantina Zaccagnini Pinot Grigio – $15.99
"Pale yellow with green nuances; very delicate bouquet, fragrant with extremely pleasant aromas. Very fresh and well-balanced flavors. With a crisp and elegant finish."
Luna di Luna Chardonnay/Pinot Grigio – $8.99
"A stylish and distinctive wine with an elegant charm that always takes center stage. Well-balanced with an abundance of fruit flavors, this contemporary Luna di Luna blend of Chardonnay and Pinot Grigio is meticulously crafted for everyday enjoyment."
Banfi Pinot Grigio – $9.99
"A crisp, dry wine from northern Italy, it is fresh and fruity with a flowery bouquet. A perfect accompaniment to light dishes or by itself, as an excellent aperitif."
Blue Fish Original Riesling – $8.99
"A little over 100 years ago, enterprising growers in western Germany's Pfalz region, joined together to start crafting and selling their wines. TOday, over 460 families participate in this venture, of which Blue Fish is the highest quality wine produced. Smooth and dry, this harmonious Riesling bursts with alluring aromas and flavors of fresh apricots and ripe peaches. It is a fine match with fish dishes, pastas and Asian-inspired cuisine."
E. Guigal Cotes du Rhone Rosé – $13.99
"Fresh with an expressive nose of red fruits and citrus. Notes of raspberry and redcurrant. Fruity, fine and round. A well-balanced and elegant wine."
Louis Jadot Beaujolais-Villages – $11.99
"An easy-drinking wine made with grapes of the highest quality from the Beaujolais region of Burgundy. A plump wine with notes of strawberry, black cherry and spice."
Best types of wine:
Pinot Grigio, Pinot Grigio/Chardonnay Blends, Light Chardonnays, Dry Riesling, Imported Rosé, Light Reds