Whether you have a few guests coming or what feels like the whole neighborhood, picking out wine for Thanksgiving dinner (maybe the most anticipated meal of the year) is no easy task. Everyone has different tastes and their is normally a complex array of side dishes happening at one time. But don't let this stress you out, Thanksgiving should be a day to celebrate and your wine experience is something to savor and enjoy. We've put together a simple guide for our best picks to serve during your Thanksgiving feast.
White Wine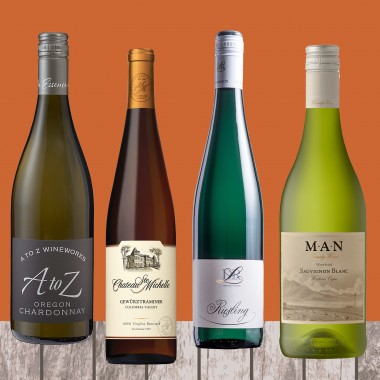 Because of the variety of side dishes that are normally on the heavier side, pick a white that is light and refreshing with a well-balance acidity and maybe a little fruit. Riesling or Gewurztraminer are always great options, but if you prefer something on the dry side, try a Sauvignon Blanc or an unoaked Chardonnay.
Dr. Loosen Dr. L Riesling
Bright, vibrant and fruit driven with a touch of sweetness, this Riesling will match perfectly with the flavors on your plate.
Chateau Ste. Michelle Gewurztraminer
This gewurztraminer is full of expressive fruit and clove flavors along with a crisp acidity, making it a perfect match for this hearty feast.
MAN Sauvignon Blanc
This Sauvignon Blanc has a crisp acidity and tropical fruit flavors that will complement your Thanksgiving dinner well and is a great option for those who don't love sweet whites.
A to Z Unoaked Chardonnay
If you're looking for a dry white with a little extra body, this unoaked Chardonnay will work well. It has floral and citrus flavors and a tremendous depth, but is balanced with the perfect acidity to complement the heavy foods on your plate.
---
Red Wine

Of course you can serve a red wine with turkey, just nothing too heavy or full-bodied. A light, bright and fruity red will be the perfect contrast to the flavors on your plate. Go with a Pinot Noir or Beaujolais. For something with a little more body you can try a Zinfandel or Syrah.
Meiomi Pinot Noir
Expressive boysenberry, blackberry, dark cherry, juicy strawberry, and toasty mocha flavors lend complexity and depth on the palate that will perfectly complement your Thanksgiving dishes.
Bread and Butter Pinot Noir
A delicious Pinot Noir with flavors of cherries and dark chocolate along with a super soft and smooth texture, this is a perfect addition to any Thanksgiving table.
Georges Duboeuf Beaujolais Nouveau
A young, refreshing wine with fruity flavors that is only released on the third Thursday in November every year. The seasonality and flavors of this wine make it a perfect companion to any Thanksgiving dinner.
Louis Jadot Beaujolais-Villages
Light bodied with flavors of fresh red fruits and dark cherries, this French wine is a perfect option for Thanksgiving dinner. It has a nice acidity that will help balance out the heaviness of your plate.
The Opportunist Shiraz
With a well-balanced weight and bouquet of ripe fruits, cherries and blackcurrants this is a great option full-bodied option that won't overpower your meal.
Terra D'Oro Amador Zinfandel
This Zinfandel is well-balanced with tons of flavors of plums and blackberries, making it a perfect (heavier-bodied) option to contrast your Thanksgiving meal well.
---
Rosé

If you're looking for a wine in between, a light, crisp and fruity rosé will match perfectly with this robust meal.
Ménage à Trois Rosé
A blend of Merlot, Syrah and Gewurztraminer, this rosé is full of fruit flavors such as raspberries and strawberries with a smooth lovely and smooth finish that will not overpower your feast.
Fleurs De Prairie Rosé
Delicate flavors of strawberry, rose petals and herbs plus a bright refreshing acidity allows a perfect complement to anything and everything on your table this Thanksgiving.
---
Bubbly

Sparkling wine can make a great addition to any meal, but adding it to Thanksgiving dinner just adds a little extra note of celebration to your meal. Try going with a Brut or dry sparkling wine such as Prosecco.
Korbel Brut
Light and refined crisp flavors of fruit and citrus ending with a balanced finish perfect for any dish Thanksgiving throws at you.
Chandon Brut Classic
Flavors of apple, pear and citrus and a hint of spice lead to a soft and dry finish you will enjoy with your meal.
Ruffino Prosecco
Fine bubbles caress the palate while intense flavors of apples and peaches give way to a pleasing finish allowing it to go perfectly with anything on your Thanksgiving table.
---
And remember, the wine that goes best with your food… is the wine you like. There are no wrong answers. You don't have to get a bottle of everything, pick 1 or 2 reds and 1 or 2 whites and stick with it. That will give you enough variety to have something each guest will enjoy. And if you're wondering how much wine you will need, remember there are about 5 glasses of wine per 750ML bottle. Expect that each wine-drinking guest will have about 2 glasses of wine per hour. (Ex. 6 guests of drinking age x 2 glasses each x 4 hours = 48 glasses / 5 per bottle = 10 bottles of wine) If you know some of your guests will drink more or less you can adjust from there.