Family owned and operated for four generations, we are honored to be your premier wine and liquor retailer in the Mohawk Valley. Originally established in 1876 by C.H. Bremer, and the first liquor store in Oneida County to receive its liquor license after Prohibition, we are proud to carry on the history and tradition that has made us who we are today.
Service, Selection, Savings...
That's our motto here at Bremer's. It's our daily mission to provide every customer with the best service, selection and savings from Albany to Rochester.
Service
We want you to have the best possible experience every time you walk through our doors here at Bremer's. We work hard to provide you with expert and courteous customer service to ensure you leave our store completely satisfied.
Selection
With 20,000 square feet to work with, we are proud to offer the largest selection of wine and spirits from Albany to Rochester. And if we don't carry it, ask! We will try our best to find it for you.
Savings
We know you love to save… so do we! We buy in larger quantities so we can pass our savings along to you for everyday low prices, not just once in a while. You'll enjoy better wines and liquors for less every time.
Giving Back
We take great pride in giving back to our community, the community that allowed us to prosper through its support over the years. For the last 6 years we have hosted our own golf tournament, Bremer's Charity Open. To date, we have been able to raise over $50,000 to benefit The Boys & Girls Club of the Mohawk Valley.
When you shop with us for your wine and liquor, we think one of the first things you'll notice is the people. That's because our team at Bremer's works together with the same goal in mind – your satisfaction. Aside from Tim and Eric, our team consists of 14 additional employees that offer over 130 years of experience working at Bremer's Wine and Liquor.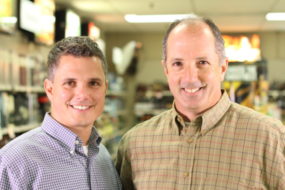 Eric and Tim Bremer, owners
Tim Bremer | Co-Owner
An integral part of Bremer's Wine & Liquor, Tim has an extensive background in the wine industry. Tim's experience includes working in Napa Valley California for V. Sattui Winery. Tim also worked at Demptos Cooperage in Napa, which is Bordeaux's leading producer of French oak wine barrels. This job allowed Tim the opportunity to work directly with many of the premier wineries in California, Oregon, and Washington State. Of all the different facets of Tim's job, the part he finds most enjoyable is helping customers find the perfect wine. Tim lives in Clinton, and in his time away from Bremer's he enjoys golfing and cycling.
Eric Bremer | Co-Owner
When Bud Bremer decided to retire, Eric was pleased to join his brother, Tim, at the helm of Bremer's. Previously, Eric worked in industrial sales and management in New England, but was anxious to move back to the Mohawk Valley to become part of the Bremer's legacy, and to raise his family. Eric enjoys meeting and greeting customers, and assisting them in their selections. Eric lives in Clinton and enjoys golfing, skiing and spending time with his two children, Brian and Megan.