Don't know what to do with your left over bottles? Try this super simple DIY dish soap dispenser!
Supplies
Your favorite wine and/or liquor bottle, empty
Pour Spout – We sell them in store for 2.99
Your preferred dish soup
Acrylic or Enamels Paint
Stencil if you prefer
Paint Brush(es)
Directions
Clean your bottle thoroughly – you don't want to wash your dishes with wine!
Remove the label:
Soak you bottle in hot water mixed with a little dish soap for a half hour or more – your label should peek right off.
However if there is left over glue residue, glue-gone helps. If you don't have that, hand sanitizer will do the trick – just cover the area in the sanitizer and let sit for 2-5 minutes and then it should wipe clean.
* If you prefer- you can always use a bottle with a label that you like & choose to keep the label and skip the painting!
Paint Away:
It helps to use two coats of paint & feel free to use your stencil. Tape it in place on each side of the stencil to keep it from shifting.
When you're done and the paint has dried completely – Just fill your bottle up with your dish soap.
Top your bottle with the pour spout and you're done!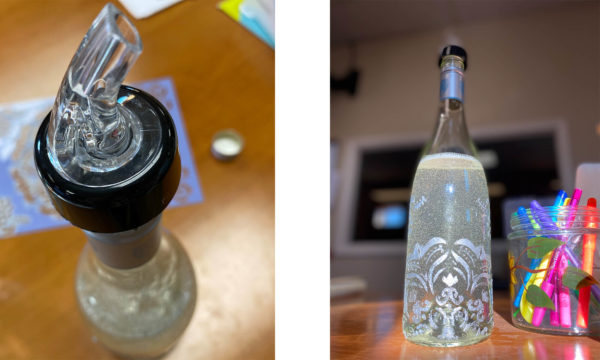 * Tip: If the soap doesn't pour easily it helps to add a splash of water and shake it up a little bit so it comes out faster.