Looking for something new to do with those corks you have been collecting? Try these potted cork flowers that will add that bright spot to your desk or your mantle you've been searching for.
Supplies
Wine corks (you will need 7 per flower)
Paint (whatever colors you want to make your flowers)
Mini Pots (I found mine at Micheal's for only 59 cents each!)
Paint brush
Hot Glue Gun or super glue
Dowels (I actually used the handles of foam paint brushes for mine!)
X-acto Knife
Something to fill your pots with, I chose white decorative rocks
Directions
Once you've collected all of your materials start by painting the corks. You only need to paint the ends unless you don't want the cork to show through at all.
After the paint dries carve out a circle in one cork from each flower the size of the dowel you are using. Once the holes are carved out put a dot of glue and push in your dowel and let dry.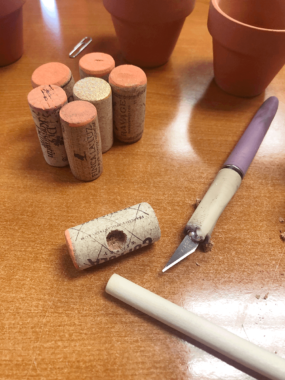 While you're waiting for your dowels to set, start gluing each flower together using a hot glue gun or super glue. Finish off each flower by gluing the cork with the dowel connected last.
Once you have your flower pieces hold it with the dowel in the center of the plant and surround it with whatever material you decided to use (sand, rocks, moss, etc.) Then.. viola! You've got some pretty great decorations for your office desk, your mantel, or to gift to someone (because who says you can't gift crafts just because you're an adult?!)
---